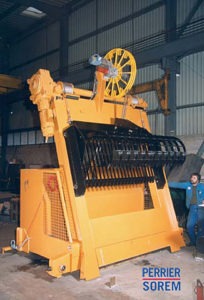 The grab with mobile jaw is the ideal tool for grasping large sized objects. On the downward movement the grab, in open position, rolls along the civil works , automatically positions itself and captures the waste matter on the trash rake rack. It stops, closes and rises again either when it has reached the foot of the screen, when it is full or when it comes into contact with a too voluminous item of waste.
Suitable for significantly deep water intakes.
Possibility of fitting a forestry arm.
Hydraulic or mechanical grab closure.
Detection of the presence and position of floating waste on the rack by a video control and image treatment system.
No lateral guides (self-centring).
Adaptable to existing racks without draining the water intake.