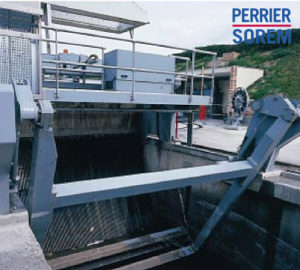 PERRIER SOREM has designed a top-of-the-range trash rake which enables fine screening without the need for upstream protection. This is due to its solid construction, its very high screening capacity and the shape of its screen which make it possible to maintain approach speeds as well as speeds between closely spaced bars.
This concentration of power and precision is ideal for large-capacity collective networks and for the primary treatment of residual and surface water.
The machine rakes  in an uplifting movement, to avoid waste compaction to the bottom.
Perrier Sorem, specialist of curved trash rake.