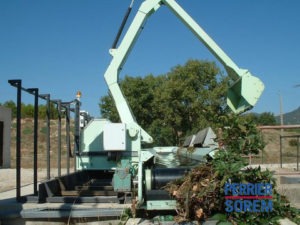 Arm trash rakes are the ideal solution for water intakes of limited depth and for small volume waste matter such as leaves, seaweed, algae and branches.
The ample kinematics combined with the motorization of the arm and the articulation of the rake make it possible to penetrate floating waste which accumulates in layers (water hyacinths for example) in front of the trash rake rack.
The action of upward screening is the best adapted to the nature of the waste. Adaptable to existing screen without draining the water inlet.
Fixed or mobile machines. Reduced wear and simple maintenance due to the use of hydraulics.