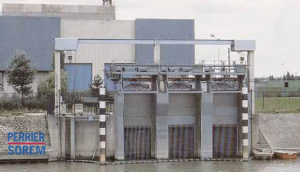 The AMC trash rakes range are suitable for the most difficult applications in the treatment  of water potable water, waste and rain water.. Whatever the quantity or the size of the waste encountered, this range offers appropriate rake coverage and screening capacity.
The 3-cable technology facilitates flexible operating due to the opening / closing of the rake at any point in the cycle.
The screen cleaning ascending principle and the width of our range ( powers, rake depths…) answer the constraints of this type of applications.
Small air gaps (to 10 mm)
The AMC400-600 and 800 are replaced by the SXC range but PERRIER SOREM still offer this type of trash rakes for identically replacement if the size and use contraints need it .